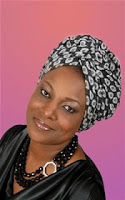 Eugenia Abu
Eugenia Abu is the Executive Director Programmes of the Nigerian Television Authority, NTA.
She had her University Education at Ahmadu Bello University Zaria, where she
bagged a degree in English in 1981. She proceeded further to obtain a Masters in communication policy studies from the City University London in 1992, graduating with a distinction. She has also completed a second Masters in Creative writing from Keele University Staffordshire in the United Kingdom (2011)
She has held several positions in the past including Head of NTA News International, Head of Presentation with the Network service of the NTA and Head, Customer Service and Service delivery (SERVICOM) of the Nigerian Television Authority.
She has also attended several conferences across the world including the Beijing conference for women in 1995.
A Chevening scholar, USIS fellow and world traveler, Eugenia is writing her first novel andShe is a recipient of the prestigious Nigerian Media Merit Award for best Newscaster of the year 1995.Eugenia is also a prize winning writer. Author of two published books, In the Blink of an Eye, a collection of essays which won her the ANA/NDDC Flora Nwapa prize in 2008 for best women?s writing and the critically acclaimed Don?t look at me like that, a collection of poems. Eugenia maintains weekly columns in two national dailies, Tales from the main road, in Business day on Fridays and Five favourite books with Eugenia Abu in The Sunday Trust.
It is worthy to note that Eucharia Abu is a motivational speaker, Life coach and media strategist, she is a member of several National and International organizations. She is a member of council of the National human rights commission, and a member of the Lagos state grant management council for Tertiary institutions. She served as Editorial board member of This Day Newspaper between 2013-2014 and was also a member of the Nigerian vision 2020 National technical working group on media. On the invitation of the Association of Nigerians in Western Australia, Eugenia delivered the 2008 Nigeria Independence anniversary lecture in Perth.
As a media trainer she has consulted for the United Nations fund for women, the United Nations information centre, the International labour organisation, the British council and Justice for all among others. She is also a facilitator for Public communication for the Consortium for research training in Africa, CARTA. Eugenia believes that mentoring is the unexplored key to fast tracking Africa?s human development and has mentored over 40 young men and women in the last three years. She is a guest lecturer at NTA TV College Jos, Nigeria and has also mentored and taught over 200 broadcasters across Nigerian television and radio channels.
Eugenia Abu is the founder of one of Abuja?s leading annual weeklong creative and literary boot camps, The Treasured Writers (TTW), for children between the ages of 7-15 years (since 2005).
She is also Lead Life coach to an annual weekend retreat programme for women, Women Take a Break (W-TAB)
In her long and rewarding career Eugenia Abu has interviewed notable world leaders including the United Nation?s Secretary General, Ban Ki Moon, President Obasanjo of Nigeria, Liberian President Ellen Johnson Sirleaf, Nigeria?s General Abdulsalami Abubakar and President Yoweri Museveni of Uganda Her portfolio includes literary giants like Nobel laureates for literature, the late Nadine Gordimer and Professor Wole Soyinka among many others.
Eugenia Abu has anchored many national and International events in the last twenty years including the inauguration ball of the late President Yaradua and the oath taking ceremony of President Jonathan on the 29th of May 2011.
Eugenia Abu was recently voted Nigeria?s most inspiring woman and 2013 ambassador of renowned fabric manufacturers, Vlisco, through an on-line voting process.
She is blessed with the ability to write in most literary genres; fiction, poetry, creative non-fiction and screenplay. She is married and blessed with Children.
Iya AbubakarIya Abubakar was born December 14, 1934. He is a Nigerian politician and mathematician who was Federal Minister of Defence during the Second Republic of Nigeria, and senator for Adamawa North from May 1999 to May 2007. Iya Abubakar...
Onyeka Onwenu was born on May 17, 1952 to D. K. Onwenu. She is a Nigerian singer, songwriter, actress, journalist, and politician. Onwenu attended Wellesley College of Massachusetts, USA and possess a BA in International Relations and Communication,...
Chude Jideonwo was born on March 16, 1985 to Mr. Ifeanyi I. Jideonwo and Mrs. Ngozi A. Jideonwo. He is a Nigerian lawyer, award-winning journalist and a media entrepreneur. Chude Jideonwo attended K. Kotun Memorial Primary School, Adebola Baptist High...
VIEW PHOTO GALLERY Amina MohammedAmina Mohammed was born in 1961. She is an indigene of Gombe State. She is born of a British mother and a Nigerian Father. Amina Mohammed is Married and Blessed...
Steve JudoSteve Judo, is the General Manager, Special Duties of ChannelsTelevision.Steve Judo holds a Bachelor of Science degree in Social Psychology (1980), and Master of Science degree in Psychology (1983) from the University of Wisconsin, U.S.A. He...