Biography
Biography of Onyebuchi Chukwu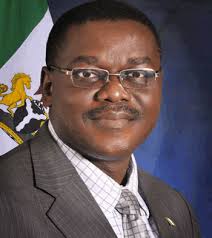 Onyebuchi Chukwu was born April 22, 1962. He is an indigene of Afikpo in Ebonyi State of Nigeria.
Professor Chukwu had Distinction when he sat for First School
Leaving Examination in 1974. He was a Federal Government Scholar at the Federal Government College Sokoto. He made Distinction in the West African School Certificate Examination (Best Result in 1979 at Federal Government College Sokoto). Onyebuchi was the Best All-round Student in Medicine when he wrote his Final Year Examination at the University of Lagos in 1986. He was given awards as: the Best Student in Primary Health Care (University of Lagos 1986), Nigerian Medical Association Annual Prize and May & Baker Prize for Best Performance at the Final Professional Examination for MBBS, (University of Lagos 1986).
After Onyebuchi studied Medicine at the College of Medicine of the

University of Lagos

, and became a medical doctor in the year

1986, he proceeded to the West African Postgraduate of Medical College where he obtained post-graduate qualification in orthopaedic surgery.
Chukwu was the Chief Medical Director/Chief Executive Officer of the Ebonyi State University Teaching Hospital, Abakaliki, a position he held between the years 2003 and 2008. It was in the year 2007 that Onyebuci Chukwu was appointed Professor of Orthopaedic Surgery at the Ebonyi State University Abakaliki, Ebonyi State. He was also a visiting Professor of Surgery at the University of Nigeria, Enugu Campus.
During the regime of former president Goodluck Johnathan, Onyebuchi Chukwu became the Nigerian Minister of Health, a position he resigned from in October 2014 in order to run as a candidate for the Governorship of Ebonyi state, Nigeria. It was under Professor Onyebuchi Chukwus?s regime as the Minister of Health that the hugely successful fight against the Ebola Virus Disease outbreak in Nigeria was fought and won.
Onyebuchi Chukwu have served Nigeria and the entire human race in the following capacities:
Member of the Board of Partnership for Maternal Newborn and Child Health;
Chairman of the Country Coordinating Mechanism (Nigeria) of the Global Fund to fight AIDS, Tuberculosis and Malaria (GAFTM);
Member West and Central African Constituency representative on the Board of the GAFTM;
Chairman of the Bureau of Ministers of Health of the African Union (CAMH6).
He is a fellow of both the West African and the International College of Surgeons;
International Affiliate and a member of the American Academy of Orthopaedic Surgeons;
Member of the Societe Internationale de Chirurgie Orthopedique et de Traumatologie (SICOT).
Chukwu is popular for championing the Transformation Agenda of the President in the health sector with considerable success. Under his tenure as the Minister of Health, he ensured the Federal Execuitve Council approved the National Strategic Health Development Plan (NSHDP). He also secured the signing of the International Health Partnership (IHP+) compact, which secured partners? commitment to the implementation of the plan. Under his tenure as the Minister of Health also, Guinea Worm was eradicated in Nigeria, leading to the the World Health Organization certifying Nigeria as a Guinea Worm Free country in December 2013.
-
Biography Of Uchenna Joy Ikokwu
Uchenna Joy IkokwuDr. Uchenna Joy Ikokwu is an indigene of Idemili, in Anambra State, Nigeria. She is married and blessed with children. She had her Primary Education at All Saint?s Primary School, Enugu in 1966 and her Secondary School...
-
Biography Of Maurice Iwu
Maurice Mmaduakolam Iwu was born on April 21, 1950. He is a native of Umuezeala, Umukabia, Ehime in Mbano Imo State of Nigeria. He is Professor of Pharmacognosy who have served as the Chairman of the Independent National Electoral Commission (INEC), appointed...
-
Biography Of Ogbonnaya Onu
Ogbonnaya Onu was born December 1, 1951, to the family of His Royal Highness, Late Eze David Aba Onu, the Eze Adu of Uburu in Ohaozara Local Government Area of Ebonyi State in Nigeria. Onu attended Izzi High School, Abakaliki, Ebonyi State...
-
Biography Of Dora Akinyili, Life And Career.
Dora AkunyiliProf. Dora Nkem Akunyili (OFR) was born in Makurdi, Benue State, Nigeria on the 14th of July 1954 to Chief & Mrs Paul Young Edemobi. She was a devout Catholic and was happily married to Dr. J.C. Akunyili, a Medical Practitioner and they...
-
Biography Of Emmanuel Uduaghan; Ex-governor; Politician; Delta State Celebrity
Emmanuel UduaghanEmmanuel Eweta Uduaghan is a native of Abigborodo in Warri North Local Government Area of Delta State, born on October 22, 1954 to Chief Edmund D. Uduaghan and Mrs Cecilia Uduaghan. Emmanuel Uduaghan attended Baptist Primary School,...
Biography