Biography
Biography Of Maurice Iwu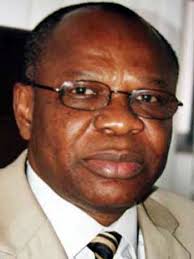 Maurice Mmaduakolam Iwu was born on April 21, 1950. He is a native of Umuezeala, Umukabia, Ehime in Mbano Imo State of Nigeria. He is Professor of Pharmacognosy who have served as the
Chairman of the Independent National Electoral Commission (INEC), appointed in June 2005, and removed in April 2010.
Maurice attended St. Pius X College, Bodo-Ogoni, where he had his secondary education. After that, he proceeded to the University of Bradford, England, where he obtained Master of Pharmacy degree in the year 1976 and later, a Ph.D in the year 1978.
After his studies, Iwu became the World Health Organization Visiting Scholar to Dyson Perrins Laboratory, University of Oxford in the year1980. He was also a Fulbright Senior Scholar, Ohio State University. He was a Professor of Pharmacognosy at the University of Nigeria, Nsukka from 1984 to 1993.
Being a renowned researcher, Maurice Iwu won the United States National Research International Prize for Ethonobiolology in the year 1999.
Iwu later entered the enterprising world, and became the Vice-President of the Research and Development of Tom's of Maine, a personal care manufacturing company. He was a member of the Board of Directors, Axxon Biopharm inc. He was also on the Board of InterCEDD, Fund for integrated Rural Development and Traditional Medicine, and Center for Economic and Social Justice. He was the United Nation's Lead Consultant for the development of Nigeria's National Biodiversity Strategy and Action Plan.
Between 1962 and 2002, Professor Iwu was the President of the International Society of ethnobiology. He was the former President of the Nigerian Society of Pharmacognosy, Member of the American Society of Tropical Medicine and Hygiene, Member of the International Society for Medicinal Plant Research.
Iwu was a former Executive Director, Bioresources Development and Conservation Program and also a Senior Research Associate at the Division of Experimental Therapeutics of Walter Reed Army Institute of Research, Washington D.C.
In August 2003, Iwu was appointed a Commissioner of INEC for Imo State under the regime of President Olusegun Obasanjo. At the end of Abel Guobadia?s regime as the Chairman of INEC in June 2005, Maurice Iwu succeeded him as Chairman.
Maurice Iwu's tenure was due to expire on June 13, 2010, but on April 28, 2010 Goodluck Jonathan, who was then an Acting President, committed to pursuing electoral reform, removed Maurice Iwu from office as the Chairman of INEC.
Maurice Iwu has published more than 100 research articles and is the author of about four books.
-
Biography Of Iya Abubakar
Iya AbubakarIya Abubakar was born December 14, 1934. He is a Nigerian politician and mathematician who was Federal Minister of Defence during the Second Republic of Nigeria, and senator for Adamawa North from May 1999 to May 2007. Iya Abubakar...
-
Biography Of Abel Guobadia
Abel Guobadia was born on June 28, 1932 in Benin City, Nigeria. Abel attended C.M.S. Primary School Benin City from the year 1939 to 1945. After his primary education, he attended Government College, Ibadan from 1946 to1951. He then got admission into...
-
Biography Of Onyebuchi Chukwu
Onyebuchi Chukwu was born April 22, 1962. He is an indigene of Afikpo in Ebonyi State of Nigeria. Professor Chukwu had Distinction when he sat for First School Leaving Examination in 1974. He was a Federal Government Scholar at the Federal Government...
-
Biography Of Mahmood Yakubu.
Mahmood Yakubu was born in Bauchi State of Nigeria in the year 1962. Mahmood had his primary education at Kobi Primary School Bauchi. After his primary education, Mahmood proceeded to the Teachers? college, Toro. Later he gained admission into the then...
-
Isaac Adewole. Biography.
Isaac Folorunsho Adewole was Born on May 5, 1954. Adewole had his early education at Ilesa Grammar School, where he begun in 1966 and passed out in 1972 and obtained Grade I certificate with distinction in 1970 and the Higher School Certificate in 1972. ...
Biography