Biography
Biography of Onyeka Onwenu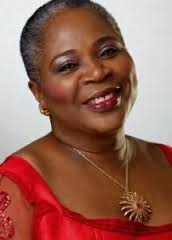 Onyeka Onwenu was born on May 17, 1952 to D. K. Onwenu. She is a Nigerian singer, songwriter, actress, journalist, and politician.
Onwenu attended Wellesley College of Massachusetts, USA and
possess a BA in International Relations and Communication, and a Master's degree in Media Studies which she obtained from The New School for Social Research in New York.
Onnyeka Onwenu was a staff of the United Nations in New York where she lived and worked for many years before returning to Nigeria in the year 1980.
Onyeka did her mandatory one-year National Service, at the Nigerian Television Authoriy (NTA).
She began her music career in the year 1981 while still working at the NTA. Then she released the album "For the Love of You".
In the year 2013, Onyeka was named as one of the three judges on the Nigerian version of The X Factor.
Onyeka Onwenu later joined politics and became a member of the People's Democratic Party. She was appointed the Chairperson of Imo State Council for Arts and Culture.
On September 16, 2013, President Goodluck Jonathan appointed Onyeka the Executive Director/chief executive officer of the National Centre for Women Development.
Onwenu has featured in numerous Nigerian movies and in the year 2006, she won the African Movie Academy Award for Best Actress.
In the year 2014, she acted in the movie Half of a Yellow Sun together with Chiwetel Ejiofor and Thandie Newton.
-
Genevieve Nnaji
Genevieve Nnaji, born May 3, 1979 is a Nigerian actress and singer. In 2005 she won the Africa Movie Academy Award for Best Actress in a Leading Role. Nnaji was born in Mbaise, Imo State, Nigeria but...
-
Biography Of Aliyu Gusau Mohammed
Aliyu Gusau MohammedAliyu Gusau Mohammed was born May 18, 1943 at Gusau, Zamfara State, Nigeria. He is an indigene of Zamfara State. He began his military career as an officer Cadet at the Nigerian Defence Academy in1964 and got commissioned in 1967...
-
Biography Of Olisa Metuh
Olisa Metuh is a native of Otolo, Nnewi North in Anambra State of Nigeria, born to Chief J. N. Metuh and his Headmistress wife. Olisa attended University of Nigeria, Nsukka, where he obtained a Bachelor of Law degree and was afterwards called...
-
Biography Of Funke Akindele, Actress. Lagos State Celebrity
Funke AkindeleAkindele Olufunke Ayotunde, Nigerian actress and producer who is popularly known as Funke Akindele was born on 24th August, 1976. She is an indigene of Lagos State. Funke Akindele obtained an Ordinary National Diploma(OND) in...
-
Biography Of Ini Edo; Actress; Awka Ibom State Celebrity.
Ini EdoIni Edo, whose full names are Iniobong Edo Ekim was born on April 19, 1982. Ini Edo a Nigerian actress, hails from Akwa Ibom State in Nigeria. Ini Edo is the second child of four children, three girls and a boy. Ini Edo?s Father was a church...
Biography