Biography
Biography of Peter Odetoyinbo (Bishop)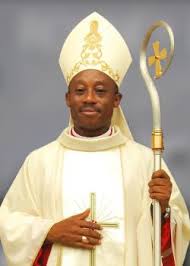 Peter Kayode Odetoyinbo was born on Janury 28, 1964 at Ibadan, Ondo State of Nigeria.
Peter was ordained a priest of the Catholic Church on October 7,
1989. He was later ordained a Catholic Bishop on June 25, 2014 at

St. Bernedette Nursery and Primary School, Oke-Ilewo, Abeokuta

. He was consecrated on the order of Pope Francis by Bishop Alfred Adewale Martins, the Catholic Bishop of Lagos. Odetoyinbo was appointed the Catholic Bishop of Abeokuta on April 15, 2014.
Prior to being appointed a Bishop, Peter Kayode Odetoyinbo had the following
pastoral
experiences:
From 1989-1992, he was an Assistant Parish Priest Holy Cross Ikire;
From 1992-1996, he was a Teacher at St. Theresas? Minor Seminary, Oke Are;
From 1995-1996, he was a Priest in Charge of St Partrick?s Church Bashorun;
From 1998-1999 he was Priest in Charge, St Ignatius of Loyola Parish;
In the year 2001, he became the Residential Priest of St Mary?s Cathedral Ibadan;
From 2001-till his Episcopate Ordination, he was the, Parish Priest of the Church of Ascension Bodija, Ibadan.
Bishop Odetoyinbo was a Professor of Church History and Patristic in SS Peter and Paul Major Seminary Bodija, and the Dominican Institute, Ibadan. Previously he had been Assistant Director of ?Review process Ibadan Archdiocese?(1990-1996), President of Ibadan Diocesan Priests? Association from 2002-2007 and Secretary of the Diocesan Priests? Association of All Yoruba land (2002-2008). He was appointed to succeed Most Rev Alfred Martins as Bishop of Abeokuta.
-
Biography Of Anselm Umorem (bishop).
Anselm Umorem was born on April 14, 1962. He was ordained a catholic priest on June 18, 1988 and he is of the Missionary Society of Saint Paul of Nigeria. On February 2, 2012, Umorem was ordained a Catholic Bishop, and immediately made...
-
Biography Of Micheal Okoro (bishop).
Michael Nnachi Okoro (Bishop) a native of Afikpo in Ebonyi State of Nigeria was born on November 1, 1940. Micheal was ordained a priest of the Catholic Church on December 19, 1965. Twelve years after he was ordained a priest, Micheal Okoro became...
-
Matthew Hassan Kukah. Biography.
Matthew Hassan Kukah was born on August 31, 1952. He is a native of Anchuna, Ikulu Chiefdom in Zangon Kataf local government area of Kaduna State. Kukah had his earliest education i.e primary education at St. Fidelis Primary School, Zagom. For his secondary...
-
Biography Of Cardinal John Onaiyekan; Catholic Clegy; Kogi State Celebrity.
Cardinal John Olorunfemi OnaiyekanCardinal John Olorunfemi Onaiyekan was born on 29 January, 1944 to Bartholomew and Joan Onaiyekan in Kabba, now known as Kogi State. Cardinal John Onaiyekan is the Roman Catholic Cardinal Archbishop of Abuja. His Eminence...
-
Biography Of Anthony Okogie; Cardinal; Priest; Edo State Celebrity.
Cardinal OkojieAnthony Olubunmi Okogie popularly known as Cardinal Okogie was born on June 16, 1936. Cardinal Okogie is a native of Uromi in Edo State. His father, an Esan is of the royal family while his mother is a Yoruba. Cardinal Okogie was ordained...
Biography