Biography
Biography of Patience Jonathan, Firstlady, politician, Rivers State Celebrity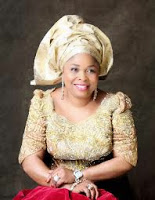 Dame Patience Jonathan

Patience Jonathan, after her graduation was employed to teach at the Stella Maris College, Port Harcourt. Dame patience Jonathan latter got a job to be an administrator at Sports Institute Isake. After some time, she left the education and sporting sector for the banking industry.

In 1997, Dame Patience Jonathan established Akpo Community Bank, the first community bank to be established in PortHarcourt. After working for some time in the bank, Dame Patience Jonathan went back to the school where she taught for some time before she was transferred to the Bayelsa State Ministry of Education, where she worked before her husband became the Deputy Governor of the state in the year 1999.

she however became the first lady of Bayelsa State from 2005 to 2007 when her hausband became the Governor. Again her husband became the Vice president of Nigeria and subsequently the President, when President Yar adua died. This however made her the first lady of the federal republic of Nigeria, a position she held until the 2015 elections when her husband, the incubent President lost the election to Gen. Buhari of the All Progressive Congress.
-
Businessmen
The group #BusinessMen was inaugurated in the year 2007 by two young entrepreneurs, Jerome Batubo and Adasa Rawlinson Cookeygam who is currently one of nigeria's top video directors ( adasa squareball cookey) Jerome ?Business Man? Batubo (born on...
-
Buhari Pleads For Patience From Nigerians.
photo from olufamous.com The president of the Federal Republic Of Nigeria, Muhammadu Buhari have pleaded with Nigerians to be patient with him. The plea came against the backdrop of criticisms that he has been too slow since his assumption of office...
-
Biography Of Patience Ozokwor; Actress; Enugu State Celebrity.
Patience OzokworPatience Ozokwor is a Nigerian Actress and Musician. Patience Ozokwor is fondly called Mama Gee and she was born on March 25, 1958 at Ngwo in Enugu State, Nigeria. Her village is Amaobo. Patience Ozokwor had her early Education...
-
Biography Of Jonathan David Jang; Politician; Ex-governor; Plateau State Celebrity
Jonathan David JangJonathan David Jang was born on March 13, 1944 in Du Local Government of Plateau State. He had his primary education at Junior Primary School, Du and Senior Primary School, Riyom between the years 1953 and 1956. He had his secondary...
-
Biography Of Seriake Dickson; Lawyer; Policeman; Governor; Bayelsa State Celebrity
Seriake DicksonSeriake Dickson is a native of Toru- Orua Town of Sagbama Local Government Area of Bayelsa State, born on January 28, 1966. Seriake Dickson?s earliest school was at Kolobiriowei Primary School, Toru-Orua from 1972 to 1978. After...
Biography