Biography
Dylan McDermott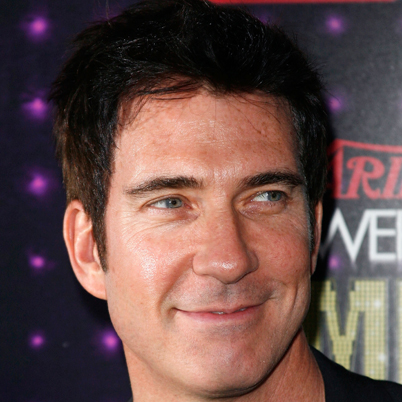 Dylan McDermott was encouraged in his acting career by his stepmother, playwright Eve Ensler. Once he started getting film roles,
McDermott swung from successes like
Steel Magnolias
to flops like
Where Sleeping Dogs Lie
. Highlights include
In the Line of Fire
with Clint Eastwood and
Hamburger Hill
. On TV, McDermott had more success, spending several seasons on David E. Kelley's
The Practice
.
Early Life
Actor. Born Mark Anthony McDermott, on October 26, 1961, in Waterbury, Connecticut. His mother passed away when he was five years old, leaving him in the care of his grandmother. At age 17, he moved to New York City to live with his father, who owned several Irish pubs in Greenwich Village. Dylan?s world opened up to the intrigue of theatre and acting when his father married successful playwright Eve Ensler. Sensing the potential of her stepson (whom she eventually adopted), Ensler wrote a part for the young McDermott into her play
Believe It, See It, Survival
. Shortly after, he enrolled as a drama major at Fordham University, then continued studying with Sanford Meisner at the Neighborhood Playhouse.
Broadway Debut
Upon completion of his studies, McDermott dove headfirst into the New York theatre scene, making his Broadway debut in a 1985 production of Neil Simon?s
Biloxi Blues
. His impressive portrayal of Wykowski Selridge got him noticed, then cast in director John Irvin's raw Vietnam drama
Hamburger Hill
, for which he had to undergo several months of rigorous military training to prepare. Unfortunately, Dylan followed up his effective performance with several lukewarm roles: the 1988 comedies
The Blue Iguana
and
Twister
, and TV's
The Neon Empire
and
Into the Badlands
were all duds. This would set the pattern of McDermott's roller-coaster ride of a career for the next few years-alternating successes with disappointments.
Career Ups and Downs
His next film role, in 1989's
Steel Magnolias
, pushed McDermott into the spotlight as both the on-and-off-screen love interest of the comely Hollywood newcomer Julia Roberts. Their engagement following completion of the film ended abruptly when Roberts fell for co-star Keifer Sutherland on the set of her next film,
Flatliners
. Despite the incident, the movie's success made McDermott a recognizable Hollywood name. The actor subsequently weathered more flops with
Hardware
and
Where Sleeping Dogs Lie
to finally capture a small but exciting role alongside Clint Eastwood in the critically acclaimed action/drama,
In the Line of Fire
.
Unfortunately, the pendulum swung once again, and McDermott made yet more unfavorable career moves, appearing in a 1994 John Hughes remake of
Miracle on 34th Street
and alongside romantic foe Keifer Sutherland in the foolish comedy,
The Cowboy Way
. A well-received turn as Holly Hunter's romantic interest in Jodie Foster's
Home for the Holidays
was notable among such box-office disasters as
Destiny Turns on the Radio
,
'Til There was You
, and
Three to Tango
with Neve Campbell and Matthew Perry.
The Practice
However in 1997, fortune finally smiled on McDermott in the form of a role in the dramatic television series,
The Practice
. Playing defense lawyer Bobby Donnell, the head of a small Boston law firm, McDermott immediately attracted favorable attention and garnered a Golden Globe award and an Emmy nomination. The show, produced by David E. Kelley, has become increasingly popular and survived several seasons despite fierce competition, winning an Emmy and a Golden Globe in 1999 for best drama series. However, in 2003, McDermott and five other cast members of
The Practice
left the series after Kelley decided not to pick up their options in an effort to reduce the show's budget.
In 1995, McDermott married theatre actress Shiva Afshar, whom he met in a Santa Monica coffee shop. He claims that he immediately knew she was "the one." Two children later, McDermott and Ashfar were separated in 2007.
-
Nicole Kidman
Nicole Kidman was born June 20, 1967 in Honolulu, but grew up in Sydney, Australia, where director Jane Campion encouraged her to pursue acting. Kidman's first indy hit, Flirting, was followed by bigger films like Dead...
-
David Oyelowo
David Oyetokunbo Oyelowo (/??j?l?wo?/ ?-YEL-?-woh; born April 1, 1976) is a British actor, producer, director, and writer. He has played supporting roles in the films Rise of the Planet of the Apes (2011), Middle of Nowhere (2012), Lincoln (2012), and...
-
>> Biography Of Kate Winslet
Kate Elizabeth Winslet, CBE (born 5 October 1975), is an English actress and singer. She is the recipient of an Academy Award, an Emmy Award, three Golden Globe Award and a Grammy Award. She is the youngest person to acquire six Academy Award nominations,...
-
>> Biography Of Jennifer Lawrence
Jennifer Shrader Lawrence (born August 15, 1990) is an American actress. Her first major role was as a lead cast member on the TBS sitcom The Bill Engvall Show (2007–09). She appeared in the independent dramas The Burning Plain (2008) and Winter's...
-
>> Biography Bruce Willis Actor
Willis at the 2010 San Diego Comic-Con International Walter Bruce Willis (born March 19, 1955) is an American actor, producer, and singer. His career began on the Off-Broadway stage and then in television in the 1980s, most notably as David Addison in...
Biography