Biography
Marie Curie Biography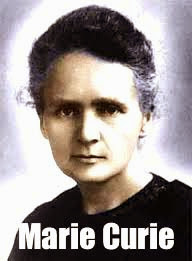 Full Name:
Maria Salomea Skłodowska
Pet Name:
Marie Curie
Date of Birth:
7 November 1867
Born Place:
Warsaw, Kingdom of Poland, Then Part of Russian Empire
Education:
Sorbonne
Date of Died:
4 July 1934 (Aged 66)
Died Place:
Passy, Haute-Savoie, France
Nationality:
Poland (by birth) France (by marriage)
Home:
Poland, France
Parents:
Both Teachers
Profession:
Physicist And Scientist
Spouse:
Pierre Curie (1859-1906)
Children:
Irene Joliot Curie (1897–1956)
Eve Curie (1904–2007)
Alma Mater:
University of Paris (ESPCI)
Invention:
Radioactivity, Polonium, Radium
Institutions:
University of Paris
Fields:
Physics And Chemistry
Notable Students:
Andre Louis Debierne
Oscar Mreno
Marguerite Catherine Perey
Notable Awards:
Nobel Prize In Physics (1903)
Davy Medal (1903)
Matteucci Medal (1904)
Elliott Cresson Medal (1909)
Albert Medal (1910)
Nobel Prize In Chemistry (1911)
Willard Gibbs Award (1921)
Notes
She Is The Only One Person To Won A Nobel Prize In 2 (Physics And Chemistry) Different Sciences.
More Info
-
Stephen Hawking Biography
Full Name: Stephen William Hawking Pet Name: Stephen Hawking Date of Birth: 8 January 1942 (Age 73) Born Place: Oxford, England Spouses: Jane Wilde Hawking (m. 1965; div. 1995) ...
-
Michael Faraday Biography
Full Name: Michael Faraday Pet Name: Michael Faraday Date of Birth: 22 September 1791 Born Place: Newington Butts, England Date of Died: 25 August 1867 (Aged 75) Died Place: Marylebone, London, England Nationality: British Father: James Faraday Institutions:...
-
James C. Maxwell Biography
Full Name: James Clerk Maxwell Pet Name: James C. Maxwell Date of Birth: 13 June 1831 Born Place: Edinburgh, Scotland Education: University of Edinburgh ...
-
Albert Einstein Biography
Full Name: Albert Einstein Pet Name: Albert Einstein Date of Birth: 14 March 1879 Born Place: Ulm, Kingdom of Wurttemberg, German Empire Education: Luitpold Gymnasium, ...
-
Louis Pasteur Biography
Full Name: Louis Pasteur Pet Name: Louis Pasteur Date of Birth: December 27, 1822 Born Place: Dole, France Date of Died: September 28, 1895 (Aged 72) Died Place: Marnes-La-Coquette, France Nationality: French Profession: Doctor, Inventor, Chemist And...
Biography