Biography
Sergei Aksakov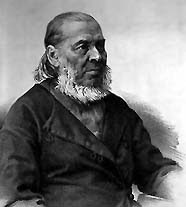 Sergei Timofeevich Aksakov (Russian: ?????? ?????????? ???????) (September 20, 1791?April 30, 1859 (OS); October 1, 1791?May 12, 1859 (NS)) was a 19th century Russian literary figure remembered for his semi-autobiographical tales of a landlord's family life, hunting, fishing, and butterfly collecting.
According to the Velvet Book, the Aksakovs trace their male line to a nephew of Haakon the Old, who settled in Novgorod in 1027. Sergey was born in Ufa, brought up in his family estate at Novo-Aksakovka, and educated in the Kazan University. Having taken part in the Campaign of 1812, he settled for a quiet life of sporting country squire in 1816. About two decades later, Aksakov moved to Moscow, where he joined the censorship department and started to publish his notes on hunting and fishing. These made him a national celebrity and won him a number of admirers, some of whom declared Aksakov superior not only to Gogol but even to Shakespeare.
In 1843 Aksakov settled in the village of Abramtsevo, which was also frequented by his Slavophile sons, Konstantin Aksakov and Ivan Aksakov. In the late 1850s he published his most enduring works, The Family Chronicle (1856) and Childhood Years of Grandson Bagrov (1858). These are reminiscences of a childhood spent in the Russian patriarchal family rather than a full-scale work of fiction. Aksakov's semi-autobiographical narratives are unmatched for their objective and detailed description of everyday life of Russian nobility.
Among his lesser works, a fairy tale The Scarlet Flower and an account of his friendship with Gogol should be mentioned. The Scarlet Flower was adapted into an animated feature film in the Soviet Union in 1952.
For Quiz related to this author please visit Squareroot
-
Russian Writers
Fyodor Dostoevsky Nikolai Gogol Anton ChekhovChinghiz Aitmatov ...
-
Nikolai Gogol
Nikolai Vasilievich Gogol' (Russian: ???????? ??????????? ???????; pronounced [n??k??laj v??s?il?j?v??t? ?gog?l?]; Ukrainian: ?????? ?????????? ??????, Mykola Vasylovych Hohol) (April 1, 1809 ? March 4, 1852) was a Russian writer of Ukrainian ethnicity...
-
Victor Erofeyev
Victor Erofeyev (Russian: ?????? ???????; born 1947) is a Russian author, the son of a high-ranking Soviet diplomat (who worked closely with Stalin). He spent some of his childhood in Paris, which accounts for why much of his work has been translated...
-
Sergei Dovlatov
Sergei Donatovich Dovlatov (Mechik) (Russian: ?????? ????????? ???????? (?????) September 3, 1941-August 24, 1990) was a Russian short-story writer and novelist. Dovlatov was born on September 3, 1941 in Ufa, Republic of Bashkiria, where his family had...
-
Mark Aldanov
Mark Aldanov (Mark Alexandrovich Landau) (Russian: ??????? ???? ?????????????) (7 November [O.S. 26 October] 1889?February 25, 1957) was a Russian emigrant writer, known for his historical novels. Mark Landau (Aldanov) was born in Kiev in the family of...
Biography