Biography
Tim Mara ( Tim mara Exhibition )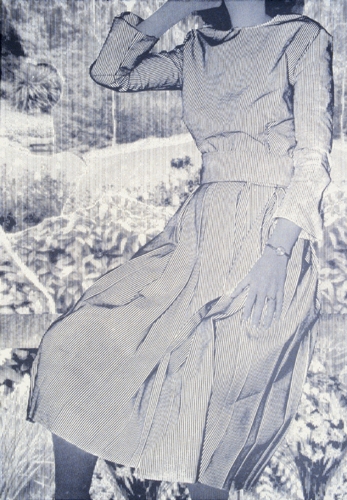 Piece on The Horsebox Gallery Tim mara Exhibition by AnOther Mag http://www.anothermag.com/current. January 27th 2012
Tim Mara (1948-1997) was a highly respected Professor of Printmaking at the Royal College of Art in London and was awarded with numerous prizes. Mara continued to experiment with printing techniques until his death in 1997. At an exhibition held at The Irish Museum of Modern Art Fellow printmaker, artist and friend, Chris Plowman spoke passionately about Mara's works describing his;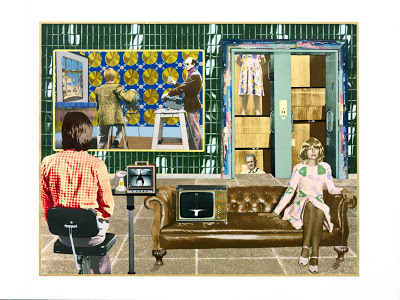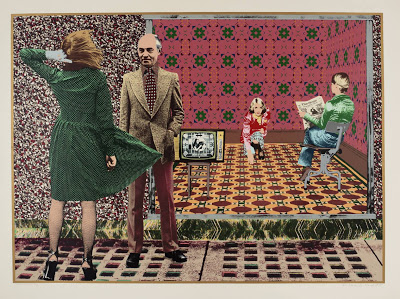 TIM MARA IS MY TECHNO HERO.
?unwavering commitment to the medium of printmaking. This is rare in contemporary practice and Mara added a profoundly intellectual dimension to the process he used.?
Mara's prints are included in collections at The Tate Gallery, London, Victoria and Albert Museum, Irish Museum of Modern Art as well as many other galleries and private collections worldwide and his works are a true marvel in both technique and spirit to this medium.
"In the hierarchy of fine art, printmaking is usually associated with craft skills ? with technique. And that gets in the way. My work was always about the ideas more than the medium?.
Tim Mara
1948 Born 27th September, Dublin, Ireland
1953 Family move to London
1953-67 Attended St Joseph?s College, Beulah Hill, London
1967 Worked in advertising at The London Press Exchange
1968-70 Studied Foundation Course at Epsom and Ewell School of Art 1970 Married Belinda Reeves
1st daughter Emily Gemini born
1970-73 Studied at Wolverhampton Art College, UK
1972 2nd daughter Alice Phoebe born
1973-76 Studied at The Royal College of Art, London, UK
1976 Travelled to America
Joined Bagnigge Wells Studios, London UK
1977 Set up Errol Street Studios with Chris Plowman, Tricia Stainton, Phil Griffin and David Jacobson
1977-80 Visiting Lecturer at various Art Schools most frequently Brighton Polytechnic and The National College of Art
and Design, Dublin
1978 Commissioned to write the Thames and Hudson manual of screenprinting
1980 Appointed Principal Lecturer in Printmaking at Chelsea School of Art, London
1983 Set up home based printing Studio in Walthamstow, London, UK
1989 Set up Wildman Corner Studio with Eric Great Rex and Martin Barrett
1990 Appointed Professor of Printmaking at the Royal College of Art, London, UK
1993-5 Appointed Head of Fine Art at the Royal College of Art, London
1993 Study trip to Calgary and Kelowna Universities, Canada
1997 Died August 12th
SOLO EXHIBITIONS
1974 Birmingham Arts Lab 1976 Institute of Contemporary Art, London 1977 Project Arts Centre, Dublin 1977 Wolverhampton Municipal Art Gallery 1978 Nuffield Gallery, Southampton University 1980 Thumb Gallery, London 1981 David Hendrik?s Gallery, Dublin 1986 Oxford Gallery 1988 Angela Flowers Gallery 1988 Drumcroon Arts Centre, Wigan 1990 Flowers East, London 1991 The Gardner Centre, Brighton 1992 The Graphic Studio, Dublin 1996 Flowers East at London Fields 1997 Glasgow Print Studio 1997 University of East London 1997 Advanced Graphics London
PRIZES AND AWARDS
1972 Stowells Trophy Winner 1973 British Airways Art Award 1975 New Contemporaries Award 1976 Major Travelling Scholarship, Royal College of Art 1978 Greater London Arts Association Award 1982 7th British International Print Biennale 1984 8th British International Print Biennale 1995 11th Norwegian International Print Triennale, Fredrikstad, Norway 1997 Honorary Doctor of Arts, University of Wolverhampton
COLLECTIONS
Allied Irish Bank, Dublin; Arts Council of England; Arts Council of Ireland; Bradford Museum and Art Gallery; British Broadcasting Corporation; British Council, London; Brooklyn Museum, USA; Collett Dickenson and Pearce, London; Contemporary Art Society of Ireland; Department of the Environment, London; Deutsche Bank, Germany; Dudley Art Gallery; Fitzwilliam Museum, Cambridge; Glasgow University; Graves Art Gallery, Sheffield IBM, London; Irish Management Institution, Ireland; Isle of Man Arts Council; J. Walter Thompson, London; Leeds City Art Gallery; Leicester County Council; London University; Manchester City Art Gallery; Milton Keynes City Museum; National Gallery, New Zealand; National Self- portrait Collection of Ireland; Newport Museum; New York Public Library; Norwegian National Print Collection; Oldham Art Gallery; Portsmouth City Museum; Rank Xerox Collection, London; Royal College of Art, London; Southampton University; Tate Gallery, London; The Bankers Trust Company, London; University College, Los Angeles, USA; University of Calgary USA; Ulster Museum; University for the Creative Arts, Farnham, Surrey; Victoria and Albert Museum, London; Wakefield Art Gallery; Walsall Art Gallery Whitworth Art Gallery, Manchester; Wigan Education Authority; Wolverhampton Municipal Art Gallery
Images & biography
courtesy of Advanced Graphics London
-
Colin Macinnes
Colin MacInnes (20 August 1914 ? 22 April 1976) was an English novelist. MacInnes was born in London, the son of singer James Campbell McInnes and novelist Angela Thirkell, and was educated in Australia. He served in the British intelligence corps during...
-
Biography Of Mahmood Yakubu.
Mahmood Yakubu was born in Bauchi State of Nigeria in the year 1962. Mahmood had his primary education at Kobi Primary School Bauchi. After his primary education, Mahmood proceeded to the Teachers? college, Toro. Later he gained admission into the then...
-
Biography Of D'banj; Musician.
VIEW PHOTO GALLERY D' banjD'banj (Oladapo Daniel Oyebanjo), a Nigerian singer and songwriter who was born on June 9, 1980 in Zaria, Kaduna State of Nigeria. D?banj was registered in a military school at the age of 11 following his father?s...
-
Alexander Fleming Biography
Full Name: Sir Alexander Fleming Pet Name: Alexander Fleming Date of Birth: 6 August 1881 Born Place: Lochfield, Ayrshire, Scotland Education: University College In London ...
-
David Hockney: The Biography
David Hockney: The Biography Review ...
Biography