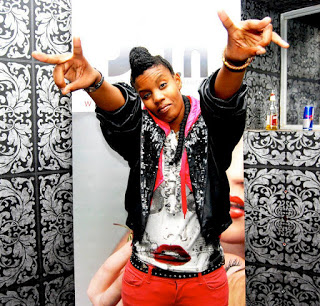 Real name Latoya Buthelezi Stage name Toya Delazy. Just to be upfront I am crazy in that buck sort of way and I have had one of the most amazing journeys while living this life.
So where do I begin? Zululand, in the country of South Africa, that?s where I was born, yes! The fierce fire of Shaka runs through my veins and I trudge over thorns and put out fires with my bare foot, lol, right! Actually I come from a humble upbringing went to boarding school at the age of 6, a convent hostel that is, so I can recite the entire Hell Mary (!), rather the Ave Maria in one giant yelp and backwards. Thanks to my convent school too I was introduced to my love for the piano - but that is about it?
Skipping past the primary phase I?d rather talk about recent highlights than detrimental school yard funk. University in 2009: Howard College Durban. I chose to study Jazz piano, best choice of my life - although I failed the first year and was encouraged to give it up but hey! No one tells me what I cannot do, I was just going through a rough time, talk about encouraging a sister instead of breaking her down geez, tough crowd! Essentially it was great, it worked out that way because I now have ?A Story? and all those moments made me who I am today and helped me to get signed on the 19th of April 2011 to Sony Music Africa. Total mind trip but it took a lot of determination and just being me. I didn?t even know I was being watched next thing I am flying up to Joburg, meeting the heads of Sony Africa, Crème Cartel funk?d out ready to see me and the camera?s are out and Delazy you?re on?
And ?Delazy You?re On? feels like this, my palms are sweating, my fingers are wrapped around the keys and I am about to let out another type of yelp, an emotion intertwined with joy, confusion, confidence and accomplishment, all I can do is Me, that?s how I got here and that?s all that?s needed?well that?s what I thought until I got to work with Jax Panik, the mad hatter of pop, totally put an end to the comfort zone! Next thing I?m sighing seductively over a mike and I am like oh hell Mary, I didn?t sign up for this! What would Shaka do?
A quick note on growing pains? if you want to grow in whatever you do, you gotta be able to Jiva Flexi, coz truth is you will never make it on your own, no man is an island, and best believe you will keep learning ?til you die - it never ends. All the extremely hard work led to a killer debut tune unfolding: Pump It On! Wait till you hear the other tracks: an unstoppable bullet hitting an unmovable wall of music - the fusion of two worlds followed by a great deep sigh of relief.
My advice: believe in yourself and no matter who or what happens, trust yourself because if you don?t it?s a windy world out here?talking about windy, the video for Pump It On has blown through like a tornado. I was lucky to work with a director that understood the concept I had for Pump It On and allowed me to add my ideas. Indeed it has been incredible. Bottom line: what has happened only happened because I let my light shine and stopped shrinking. I have also enjoyed responding to the many press interviews and questions of late - some of which make claims that I?m crazy (true story) and are hoping for me not to be in a straight-jacket by the time the album launches since one has to have ?crazy talent? (apparently!) to do what I do. I actually felt quite flattered, crazy ol? thang me!
I have written countless interviews explaining where I am from and what I plan to do. People from all over are trying to understand what sort of African I am, people trying to find answers, for what they have heard and seen from the straight-jacket nominee from Zululand. Well, alright here it is pure and bare: there isn?t much of a secret. I am just living my life and I am happy to have everyone enjoy my journey with me. I sing because it heals me. I have always enjoyed entertaining people even if it?s myself in front of a mirror (I once cracked myself up making faces in the mirror not aware that my mom was watching?crazy ?ol thang me). I enjoy sharing what I have with people. I enjoy giving out positive energy and getting it back. I am a pianist and singer & I dance very well under the influence of good music! I enjoy the occasional beer at a pub and a game of pool. I am wild and sometimes irresponsible?but most of all I realize I just got this one shot at living and being happy and all I really can be is Me. If my sound and music makes you buck out and get excited about living, let?s Pump It On together, ?til the beat stops.
When you think about it, it?s all we got.
Long before Robbie was even in Take That, years before the Pop Idols had even heard of Cole Porter, Jamie Cullum was experimenting with not only the music of his youth (from grunge to heavy metal) but also the tunes sung by cool people in suits he found...
CABO SNOOP is Ivo Manuel Lemus, born on November 1, 1990 maternity Lucretia Pain. Son of Teresa Francisco Manuel Lemus and João Adão de Lemus Antonio. He has 12 brothers. He lives in Luanda, in the neighborhood Hoji ya Henda, in Cazenga. At home call...
Tiwatope Savage, known under the stage name Tiwa Savage, is a Nigerian singer-songwriter. She is currently signed to Sony/ATV Music Publishing and Mavin Records. She co-wrote the track "Collard greens and Cornbread" on Fantasia Barrino?s Grammy-nominated...
Godwin Komone popularly known as Gordons is a Nigerian Comedian and Musical Artist. He is an indigene of Delta State and an Urhobo by tribe. Gordons attended Ighogbadu Primary School,Delta State and then proceeded to Nana College, Delta State for...
Photo Gallery Linda Ikeji BackgroundLinda Ikeji, a native of Nkwerre in Imo State of Nigeria and the second, out of seven children begat by her parents, was born on September 19, 1980.Education Nigerian biography have not gathered any information...