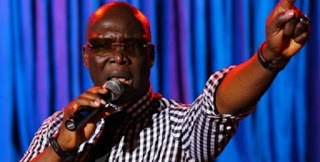 Godwin Komone popularly known as Gordons is a Nigerian Comedian and Musical Artist. He is an indigene of Delta State and an Urhobo by tribe.
Gordons attended Ighogbadu Primary School,Delta State and then proceeded to Nana College, Delta State for his Secondary Education. He is a graduate of Integrated Science from Delta State University.
Gordons is the first born of his parents. He got married on March 23, 2002 and his marriage is blessed with four children.
According to an interview he had, he has this to say about his growing up; ?Growing up was hell because we were the poorest of the poor and even the people considered as poor used to call us poor people, it was that bad. I used to trek to school bare foot because we didn?t have money to buy shoes and even when patch trousers had not started reigning, I had already started wearing patch patch trousers to school because the uniform was torn but no money to replace it so I had to patch and wear it.
It got to a point that my dad lost what little job he had then and at the age of 12, I had to start being the breadwinner. I would go out and fish all morning so that we could have something to eat and sell.
I could not go out, maybe to a party organized by friends if I didn?t borrow what I would wear and I had to be very careful where I wore it to so they won?t say it?s somebody else?s shirt I was wearing.
But thank God I found favour in the sight of my friends in school and the teachers. My friends would ask me to teach them what was taught because I was very intelligent and in return, they would buy food for me or give me money.
It was hell growing up, but it taught me a lesson in life that it is only God that lifts a man up.?
It is worthy to note that his story is one from grass to grace. He struggled to make it in life despite his humble beginnings.
Today his story is different as he can talk about purchasing his Dolce and Gabana wrist watch, for about $1,500 which has the ability to forecast the weather.
He can also afford to buy other expensive clothing and accessories like his suits and shoes which is his brand image.
Gordon?s big break came in 2005, even though he started entertainment in 1992, passing through a lot of struggles and challenges. Infact he confesses that it never occurred to him that one day he would be privileged to stand before the crème de la crème of society.
In 2005, he went to Lagos to do an album, when he finished the album, it attracted a lot of attention as a lot of people liked his songs. It was around that time that Pastor Paul Adefarasin called him to anchor the experience programme where there was an audience of about 500,000 people. It was also at the event, he was told to do comedy and the programme turned out to be an explosion as it catapulted him to stardom.
Gordons however talks about the challenges he has experienced in his success story, he has this to say ?It is impossible to see a man who is successful that has never failed before. Sometimes, you crack a joke and you expect people to laugh, but it doesn?t turn out that way. For example I?ve cracked a joke about Dana airways before, and the management was very angry with me.
I?ve also cracked a joke about our electricity problem, and I did not know that the Minister of Mines and Power was in that meeting. He collected the microphone from my hand. It was an open embarrassment. I once cracked a joke in Port Harcourt and I was booed out of stage. When you encounter that kind of thing, you go back home and get back to work. Such things don?t really happen as much as they used to because I?m a bit older in the game now. When you mature in some things, you know what to avoid.?
He derives his inspiration from reading a lot. He also watches other comedians too, including foreign ones such as Steve Harvey and Chris Rock. He also prays to God who is the giver of inspiration.
He organizes the Gordon?s comedy clinic around the country. His drive is about entertaining the unentertained.
His Advice to upcoming comedians is this ?Mediocrity is no longer allowed, just be yourself and be creative, that is all I have to tell them. If you think you want to be a comedian because the comedians you see are making money, then you are not in the right profession. Be sure that this is what you want to do and be hardworking because hard work pays.?
His Philosophy of life is this ?The way up is down, meaning that if you want to get up, you have to be down first so you can appreciate it better when you get up?.
Real name Latoya Buthelezi Stage name Toya Delazy. Just to be upfront I am crazy in that buck sort of way and I have had one of the most amazing journeys while living this life. So where do I begin? Zululand, in the country of South Africa, that?s where...
ElenuAkinlami Babatunde Julius popularly known as Elenu is an upcoming Nigerian Comedian. He has always had the dream of becoming a Medical Doctor, but along the line, he fell in love with Computers and hence went ahead to obtain an Ordinary National...
BoviAbovi Ugboma popularly known as Bovi was born on September 25, 1979. He is a Nigerian comedian, director, producer, actor, and a writer.Even though he was born in Benin City, He is an indigene of Delta State, Nigeria. He had his early education...
I Go DyeFrancis Agoda, popularly known as I Go Dye, was born on April 4, 1979. He is a Popular Nigerian Comedian, and an indigene of Abraka, in Ethiope East Local Government Area of Delta State, Nigeria. He is married and blessed with ...
AYAyo Richard Makun also known as A.Y is a Nigerian Comedian, Actor, Professional Master of Ceremonies, live show host and writer. AY is the eldest son from a family of seven. He is from Ifon in Ondo State, but was however born and bred...