Biography
Biography of Ibrahim Saminu Turaki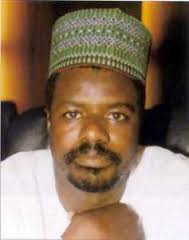 Ibrahim Saminu Turaki was born on July 14, 1963.
He attended Federal Government College Kaduna for his secondary school and Ahmadu Bello University, where he earned a degree in
Actuarial Science in the year 1985.
Ibrahim Saminu Turaki is a former governor of Jigawa State of Nigeria from May 29, 1999 to May 29, 2007.
He was elected in 1999 and reelected in 2003 on the platform of the All Nigeria People's Party (ANPP). Turaki
notable for decentralizing
Jigawa state government, by creating what is today known as as the Hadejia Emirate, Dutse, Gumel, Ringim and Kazaure.
In April 2007, Ibrahim Saminu Turaki contested for the Senate as a member of PDP and was elected to represent Jigawa Northwest Federal Constituency. At the senate, he became a member of the committee on Upstream Petroleum Resources, Sports, Marina, National Planning and National Identity Card and Population.
In the year 2011, Turaki wanted to run for reelection, but the Peoples Democratic Party favored Danladi Abdullahi Sankara. This development caused Turaki to defect to the Action Congress of Nigeria. At the end of the election, Danladi emerged the winner of the election, but Turaki said that there had been electoral fraud.
-
Biography Of Mohammed Saleh
Mohammed SalehMohammed Sani Saleh was born on November 9, 1955. He is an indigene of Kaduna State. He is a retired Major General. He attended Kaduna Polytechnic where he obtained a Higher National Diploma(HND) in Quantity Surveying....
-
Biography Of Kabiru Ibrahim Gaya, Senator
Kabiru Ibrahim GayaKabiru Ibrahim Gaya was born on June 16th 1952. He is an indigene of Kano State. He had his early education at Gaya Central Primary School. He then proceeded to Government College, Birnin Kudu where he obtained his SSCE Certificate....
-
Biography Of Abu Ibrahim; Senator; Politician;katsina State Celebrity.
Abu IbrahimAbu Ibrahim is a Senator of Federal Republic of Nigeria. He is an indigene of Katsina State. He was briefly the chairman of the Katsina branch of the People?s Democratic Party(PDP). In 2002, after unsubstantiated allegations were made against...
-
Biography Of Ibrahim Hassan Dankwambo, Governor; Accountant, Polititcian; Gombe State Celebrity.
Ibrahim Hassan Dankwambo Alhaji Ibrahim Hassan Dankwambo was born on April 4, 1962. He is a native of Gombe town of Gombe State. Ibrahim Hassan Dankwambo studied at Ahmadu Bello University, Zaria between the years 1981 and 1985, where he obtained...
-
Biography Of Ahmed Ibrahim Lawan, Politician; Senator; Yobe State Celebrity
Ahmed Ibrahim Lawan - a Senator of the Federal Republic of Nigeria was born in 1959. He is an indigene of Yobe State. Ahmed Ibrahim Lawan obtained a Bachelor's Degree in Geography and thereafter a Masters and Doctorate Degree all in Remote Sensing.Ahmed...
Biography