Biography
Biography of Olusegun Mimiko; Ex-Governor; Medical Doctor; Politician; Ondo State Celebrity.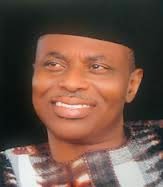 Olusegun Mimiko
Dr. Olusegun Mimiko was born on October 3, 1954 in Ondo town.
The earliest education of Olusegun Mimiko Known to Nigerian Biography is his Secondary
Education. Olusegun Mimiko had his secondary education at St. Joseph?s College, Ondo and Gboluji Grammar School, Ile-Oluji. After his secondary education, Olusegun Mimiko proceeded to Obafemi Awolowo University in 1972 where he studied medicine, and graduated in in 1980.
Olusegun Mimiko egaged in the practice of his profession which he did both in Ondo State and Rivers State.
Olusegun Mimiko is the founder of the famous Mona Mediclinic situate in Ondo Town. Olusegun Mimiko served Ondo State as Commissioner of Health and also as Secretary to the State Government.
In the year 2003, he contested for the position of the Governor of Ondo State and lost the election on the platform of Alliance for Democracy. Later in the year 2007, he contested again for Governorship election and won on the platform of Labour Party.
-
Biography Of Adebayo Adefarati
Adebayo Adefarati was born on February 14, 1931, and died on March 29, 2007. He was a native of Akungba Akoko in Ondo State. He was a former governor of Ondo State Nigeria. Adebayo was a two-time commissioner in Ogun State, first the State Commissioner...
-
Biography Of Olusegun Osoba
Olusegun Osoba was born on 15 July 1939 at Egbatedo Ogun State to Pa and Madam Jonathan Babatunde Osoba. Osoba had his primary education at African Church School, Osogbo between 1947 and 1953. From there, he went to the Apostolic Teachers Training College....
-
Biography Of Mike Igbokwe; Senior Advocate.
Mike Igbokwe, (SAN)Mike Igbokwe, (SAN), was born on November 28, 1959 in Ikare, Ondo State. After Mike Igbokwe?s primary and secondary education which he acquired in Ondo State, he went to Lagos and had his university education in University...
-
Biography Of Liyel Imoke; Ex-governor; Lawyer; Politician; Cross River State Celebrity
Liyel ImokeLiyel Imoke was born July 10, 1961. The earliest disclosed education of Liyel Imoke was his secondary education which he had at the following secondary schools: Mary Knoll College, Okuku, Ogoja and Federal Government College, Enugu which...
-
Biography Of Andy Uba
Andy Uba, a native of Uga in Aguata Local Government Area of Anambra State was born on December 14, 1958 in Enugu, Enugu State, Nigeria.After his primary education, Andy Uba attended Boys High School Awkunanaw, Enugu for his secondary education....
Biography