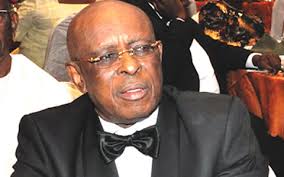 Olusegun Osoba was born on 15 July 1939 at Egbatedo Ogun State to Pa and Madam Jonathan Babatunde Osoba.
Osoba had his primary education at African Church School, Osogbo between 1947 and 1953. From there, he went to the
Apostolic Teachers Training College. He also attended Methodist Boys High School Lagos. Sponsored by the International Press Institute in 1965, he obtained a Diploma in Journalism from the University of Lagos. Thereafter, he went for a one-year course in the United Kingdom on the scholarship of the Commonwealth Press Union in 1967. He did part of the program at Oxford University, Oxford, United Kingdom while the rest were at Bloomington, USA at the Indiana University's Department of Journalism in 1969. He did a postgraduate study at Harvard University Cambridge, Massachusetts, USA.
Prior to studying Journalism and becoming a journalist, Olusegun Osoba worked as a building inspector in Lagos. He however started his career in journalism in 1964 when he worked with Daily Times as a trainee reporter covering crime stories. In 1966, he became the diplomatic correspondent of the Times. In 1968, he became a news editor. By 1971, he was already a deputy editor of the Sunday Times, and deputy editor of the Times in 1972. In 1975, he became the Editor of the Daily Times of Nigeria, a news firm he left in November 1975 to take up the task of General Manager of the Nigerian Herald. In the year 1984, he returned to Times and became the managing director. He also worked as stringer or local correspondent for the following organizations: Newsweek Magazine, U.S.A , The British Broadcasting Corporation (BBC),The Times of London and the United Press International News Agency (UPI).
In 1992, Olusegun Osoba was elected as Governor of Ogun State, a position he held until November 1993 on the platform of Social Democratic Party (SDP). When Nigeria returned to democracy in 1999, he was elected again as governor on the platform of Alliance for Democracy (AD) and he held the office until May 2003.
Olusegun Osoba was at the helm of affairs of the following bodies:
the chairman of the Governing Board of the Nigerian Institute of Journalism;
member of the Executive Board of the International Press Institute representing Black-Africa from 1984-1992;
member of the Nigerian Constituent Assembly in 1988;
member of the Commonwealth Press Union, London and the Nigerian union of Journalist (NUJ).
Osoba is an Awardee of the Nigerian National Honor of the Commander of the Order of the Niger CON.
In the year 2014, He was a member of the National Conference.
Olusegun Osoba is Married to Beere Aderinsola and they have four children, two boys and two girls Kemi, Olumide, Oluyinka and Tobi.
Segun OniOlusegun Oni popularly known as Segun Oni was born on September 5, 1954 at Ifaki in Ekiti State, Nigeria to Hezekiah Adebomi Oni and Comfort Ajayi Oni. His father died on January 28, 1981. Segun Oni is a Nigerian Politician and an...
Florence Ita Giwa was born on February 19, 1946 in Atabong, Bakassi LGA area of Cross River State. Florence attended the Kilburn Polytechnic in London, United Kingdom, where she studied for, and became a nurse. After she graduated as a nurse, she became...
John Olatchy MomohJohn Olatchy Momoh (OON) is the Chairman and CEO of Channels Television, a Television station he founded in 1992. He was born on July 1, 1957 in Lagos, Nigeria. He was born into a humble background as his father was a cook. The Television...
Olusegun MimikoDr. Olusegun Mimiko was born on October 3, 1954 in Ondo town. The earliest education of Olusegun Mimiko Known to Nigerian Biography is his Secondary Education. Olusegun Mimiko had his secondary education at St. Joseph?s College, Ondo and...
Olusegun Obasanjo Olusegun ?basanj? was born on March 5, 1938 in Ogun State, but he was raised up in Owu Abeokuta. Olusegun Obasanjo joined the Nigerian Army in the year 1958 when he was 21 years old. He was trained at the Aldershot and Defence Service...