Biography
Biography of Orji Uzo Kalu; Ex-Governor; Billionaire; Abia State Celebrity.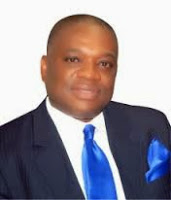 Orji Uzo Kalu
ABOUT ORJI UZO KALU
Orji Uzo Kalu was born on April 21, 1960.
He attended Christ the King School Aba and Government College, Umuahia. Orji Uzo Kalu also attended Barewa College, Zaria, from where he got admission into the University of Maiduguri
where he studied political science. He later left the University to study at and obtained his degree in Abia State University. He also has a degree in Business Administration, which he obtained from Harvard University. University of Maiduguri later honored him with a doctorate degree.
Orji Uzo Kalu, after his university education, borrowed $35 from his mother with which he started trading in palm oil. He would buy the oil in the Eastern Nigeria and travel all the way to the North to sell them and make reasonable profit. He later started trading on furniture which he would buy and resell for some profits. Later, Orji Uzor Kalu founded a company called SLOK Holdings, a conglomerate that consists of other companies he had founded like International Bank Limited, Adamawa Publishers Limited, Ojialex Furniture Company, Supreme Oil Limited, SLOK Airline, SLOK Botswana, Cotonou, Ghana, Guinea, Liberia, South Africa, SLOK Korea, SLOK Nigeria Limited, SLOK United States Incorporated, SLOK United Kingdom Limited, SLOK Vegetable Oil, Aba, SLOK Paper Factory, Aba, Sun Publishing Limited etc.
Putting all he has accomplished into consideration, especially their benefits to the Nigerian economy, Orji Uzor Kalu was honored with the National Merit Award by President Ibrahim Babangida, at the age of 26 in the year 1986, making him the youngest Nigerian to receive such Award.
Orji Uzo Kalu later ventured into politics and became the governor of Abia Sate of Nigeria.
Where Orji Uzo Kalu is now.
In the year 2014, Forbes listed Orji Uzor Kalu as the 26th richest man in Africa is he was worth One Billion Dollars.
-
List Of Most Popular Celebrities From Abia State.
Aguyi-Ironsi Chinedu Ikedieze Basket Mouth Orji Uzor Kalu Yemi Alade Theordore Orji Uche ChukwuMerije Okezie Ikpeazu Mao Ohuabunwa Augustine Akobundu Oko Ukiwe Nkem Abonta Uzoma Nkeiruka Onyejeocha Uko Nkole Prestige Ossy Solomon Adaelu Nnenna Ukeje...
-
10 Richest Persons In Nigeria.
1. Aliko Dangote. Net Worth: $ 3.5 Billion Rank In Nigeria: # 1 Rank In Africa:# 1 Business: Cement, Flour, Sugar etc. Alhaji Aliko Dangote, MFR, GCON was born April 10, 1957, at Kano State, Nigeria. He is the Chairman and Chief Executive...
-
Biography Of Enyinnaya Abaribe
Enyinnaya AbaribeEnyinnaya Harcourt Abaribe was born on March 3, 1955. Enyinnaya attended Government College Umuahia where he graduated in the year 1974. After his graduation, Enyinnaya attended University of Benin, where he studied and obtained...
-
4 Nigerian Celebs Who Dropped Out Of School To Pursue Career.
1. Mercy Johnson. Mercy Johnson is a successful Nigerian Actress and Nollywood star, who have appeared in over 50 movies. She has also won several awards including African Magic Viewers Choice Award, 3013. According to Wikipedia, ?Mercy...
-
Biography Of Theodore Orji; Ex-governor; Politician; Abia State Celebrity, Senator
Theodore Orji Theodore Ahamefule Orji was born in the year 1950, and is a native of Amaokwe-Ugba, Umuahia ? Ibeku in Umuahia North Local Government Area of AbiaState. Theodore Orji had his secondaryg education at Santa Crux Secondary School, Olokoro,...
Biography