Biography
Biography Of Enyinnaya Abaribe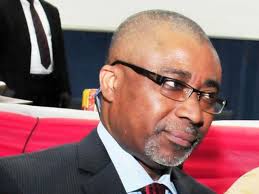 Enyinnaya Abaribe
Enyinnaya Harcourt Abaribe was born on March 3, 1955.
Enyinnaya attended Government College Umuahia where he graduated in the year 1974. After his graduation, Enyinnaya attended University of Benin, where he studied and obtained a bachelor's degree in economics in the year 1979. He went further for a post graduate studies and earned a master's degree in
economics in the year 1982.
After his academics pursuit, Abaribe got job as a lecturer at Edo State University where he worked from 1982 until 1985.
In the year 1985, Enyinnaya became the Area Manager For Southern Nigeria at SCOA Nigeria, a position he held until 1991. In 1991, he became the NICON Senior Manager For Investment, and remained in the position until 1992. In 1993, Abaribe became the CEO of Integrated Mortgage Co, a position he held until the year 1995.
Following the general election held in the year 1999, Abaribe became Abia State's Deputy Governor, deputizing Orji Uzor Kalu. Enyinnaya was impeached and restored as the Deputy Governor of Abia State?s twice in the year 2000 and a third time in 2003; while the plot for his third impeachment was being hatched, he resigned on March 7, 2003, sending his resignation to the house of assembly. Notwithstanding his resignation, the Abia State?s House of Assembly still went ahead to vote him out of office several days after receipt of his resignation letter, an action that was described as "medicine after death" by Abaribe.
In the year 2003 Enyinnaya Abaribe contested for the Gubernatorial election under the platform of All Nigerian Peoples Party (ANPP), but lost to Orji Uzor Kalu his former boss.
In the year 2007 Enyinnaya Abaribe was elected as a Senator Of The Federal Republic Of Nigeria, bearing the flag of the People's Democratic Party (PDP) ticket.
In those days, Abaribe was the Vice Chairman of the Senate Committee on Inter-Parliamentary Affairs, assisting Senator Abdulaziz Usman of Jigawa-North East who then was the Chairman. He was also a member of the Senate Committees on the Independent National Electoral Commission and Committee on Senate Services, and Works.
In the year 2007, precisely October 2007, Abaribe led six other senators from the South East of Nigeria to negotiate the release of Ralph Uwazuruike, leader of the banned Movement for the Actualisation of the Sovereign State of Biafra (MASSOB), who then was on trial for treason at the Federal High Court in Lagos to demand his release.
In April 20011, Abaribe was reelected as a Senator of the Federal Republic Of Nigeria.
-
List Of Senators Of The Federal Republic Of Nigeria.
Abia State Senator Mao A. Ohuabunwa (Abia North) PDP Senator Theodore Ahamefule Orji (Abia Central) PDP Senator Enyinnaya Harcourt Abaribe (Abia South) PDP Adamawa State Sennator Binta Masi Garba (Adamawa North) APC Senator Ahmadu Abubakar (Adamawa South)...
-
Biography Of Ibrahim Saminu Turaki
Ibrahim Saminu Turaki was born on July 14, 1963. He attended Federal Government College Kaduna for his secondary school and Ahmadu Bello University, where he earned a degree in Actuarial Science in the year 1985. Ibrahim Saminu Turaki is a former governor...
-
Biography Of Aliyu Wamakko; Ex-governor; Politician; Sokoto State Celebrity.
Aliyu WamakkoAliyu Wamakko was born on March 1, 1953 in Wamakko, Sokoto State. Aliyu Wamakko attended Sokoto Teachers? College. He later gained admission into the University of University of Pittsburgh in the United States, where he graduated in 1980....
-
Biography Of Orji Uzo Kalu; Ex-governor; Billionaire; Abia State Celebrity.
Orji Uzo KaluABOUT ORJI UZO KALU Orji Uzo Kalu was born on April 21, 1960. He attended Christ the King School Aba and Government College, Umuahia. Orji Uzo Kalu also attended Barewa College, Zaria, from where he got admission into the University...
-
Biography Of Ugwuanyi Ifeanyi Lawrence;
Ugwuanyi Ifeanyi Lawrence is a native of Orba Town in Udenu Local Government Area of Enugu State, Nigeria. He was born on March 1964. Ugwuanyi Ifeanyi Lawrence attended University of Nigeria, Nsukka. Ugwuanyi Ifeanyi Lawrence worked with Premier Insurance...
Biography