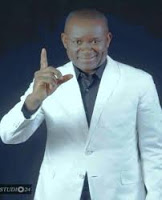 John Owan Enoh
John Owan Enoh, Senator representing Cross River Central Senatorial District was Born on June 4, 1966 to the family of late Chief Louis Owan Enoh in Agbokim
Waterfalls, Etung Local Government Area of Cross River State.
John Owan Enoh had his early Education at St. Gregory Primary school, Agbokim Waterfalls and St. Augustine Junior Seminary, Abakaliki, in the present Ebonyi State. His enrolment into the junior seminary was in anticipation of joining the Catholic priesthood. However, God had a different path for him as his younger brother, Rev. Fr Anthony Achime Owan later became a Roman Catholic Priest. He thereafter proceeded to the University of Calabar where he graduated. He later obtained a master?s degree in Demography from the same university and was immediately employed as a lecturer.
In 1999, he ran under the platform of All Peoples Party ( APP) and won, representing Etung State Constituency in Cross River State House of Assembly. In 2003, he won his elections under Peoples Democratic Party ( PDP ) to the Federal House of Representatives, where he became Vice Chairman, House Committee on Finance. He returned again in 2007 and later became Chairman of the Finance Committee. In 2011, having made it to the House of Reps for a record third term, he was made Chairman of the Appropriation Committee of the house. Within this period, he attracted several projects to his constituency ranging from street lights, roads, health centres, education facilities, ICT centres and many more.

He was one of the arrowheads behind the establishment of the Budget Office. His passion for transparency and accountability gave light to the setting up of the Fiscal Responsibility Commission (FRC) through an Act of parliament. Guided by the need to blockade revenue leakages at the federal level, Owan Enoh has helped in providing new vibe to revenue collecting agencies like the Nigerian Customs and Federal Inland Revenue Service (FIRS). It is to his credit, as the Chairman of Appropriation Committee, that the country now enjoys a discreet system in national development through the long term annual budgetary planning. Instructively, he remains the most experienced lawmaker knowledgeable in safeguarding the nation?s finances.

Owan Enoh has stylishly opposed elitist politics and embraced people - oriented policies. The kind of politics that further the course of participatory democracy and as well entrench inclusive political culture. Where all stakeholders are involved. He acts as a team player within party politics; and in his true self tilt towards the youth, market women, elderly and students. This has kept him atop and afloat within the political spectrum. Contrary, the present political configuration has brought with it new challenges.
In the 2015 elections, John Owan Enoh contested for the senatorial seat and was decared
the winner of the Cross River State Central Senatorial District.
He polled a total of 136,948 votes to beat Dr Sandy Onor of the Labour Party who got 35,702 votes and the All Progressives Congress candidate who scored 8,038 votes.
After his swearing in, he had this to say "it is to raise up the level of representation for those who have elected me to continue to serve them more than I have ever done before; it shows a lot of confidence on the part of the people so for me to continue to empower the most marginalized part of my constituents; to continue to engage with them to get government closer and closer to the people and to contribute reasonably and meaningfully to the activities of the Parliament"
SAMUEL OKON IKON was born on February 1, 1973, to the family of Elder Okon Ikon of Mbioto Ekpene Ituen in Etinan Local Government Area of Akwa Ibom State. He is a member of the Federal House of Representatives, representing the Etinan/Nsit Ibom/Nsit Ubium...
Usman Bayero NafadaUsman Bayero Nafada, Senator representing Gombe North Senatorial District was born in January 1961. He is an indigene of Gombe State. Usman Bayero Nafada had his Primary Education at Nfada Central Primary School in 1978. He then proceeded...
Gilbert NnajiGilbert Emeka Nnaji was born on July 18, 1966. He is an indigene of Nike in EnuguState. He had his primary Education at Community Primary School, Amoji, Nike. He then proceeded to Boys High School Awkunanaw where he did his Secondary Education....
Abu IbrahimAbu Ibrahim is a Senator of Federal Republic of Nigeria. He is an indigene of Katsina State. He was briefly the chairman of the Katsina branch of the People?s Democratic Party(PDP). In 2002, after unsubstantiated allegations were made against...
Ike EkweremaduIke Ekweremadu, a senator of the Federal Republic of Nigeria was born on May 12, 1962 at Amachara Mpu Village in Aninri Local Government Area of Enugu State. He was born into the royal family of His Royal Highness,Late Igwe Mathias Ekweremadu,...