Biography
Biography of Joseph Reuben Etuk, Excutive Director, Special Duties, NTA.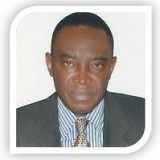 Joseph Reuben Etuk
Joseph Reuben Etuk, who is an experienced Broadcaster has over thirty three years experience in the broadcast industry.
Joseph Reuben Etuk is a graduate of Business Studies ( Marketing and Advertising ),
from the College for Distributive Trades, London. He also holds a Post-graduate Diploma in Business Studies from London?s Metropolitan University and a Masters Degree in Business Administration from Enugu State University of Science and Technology.
He began his television career in 1981 after the mandatory National Youth Service which he had with the Nigerian Television Authority, Makurdi as a Commercial Officer. He became Head of Marketing department six (6) years after, and rose to the position of Manager Marketing in 1994. Mr. Etuk has headed several units in the Marketing Directorate including Network News Marketing 1998-2000, TV Enterprises: 2000 ? 2004; Benin Zonal Network Centre 2004-2007. Headquarters? Marketing 2007-2008. He was the pioneer General Manager, NTA TV Enterprises, a subsidiary company of the NTA and was appointed Managing Director in 2008.
From 2009 to 2012, he was a Director and member of the Board of NTA Star TV Network, a joint venture company pioneering Nigeria?s migration from analogue to digital broadcasting.
He is a member of several professional bodies including the Advertising Practitioners Council of Nigeria (APCON), the Nigerian Institute of Marketing of Nigeria (NIMN) Fellow, Institute of Corporate administration, Fellow,Chartered Institute of Commerce.
He has over time received commendations from the Authority for his contributions to:
Grassroot coverage and marketing of Local Government activities and, for
successful marketing of National Sports Festival from NTA Makurdi. He Also received National Entrepreneur Award from the National Institute of Marketing of Nigeria.
In March 2014, Mr. Etuk was appointed Executive Director Special Duties in NTA.
-
Reuben Abati. Biography.
Reuben Abati was born November 7, 1965 in Abeokuta, Ogun State, Nigeria. He was the Special Adviser on Media and Publicity to former President Goodluck Jonathan of Nigeria. Reuben Abati studied Theater Arts at the University of Calabar, where he graduated...
-
Biography Of Steve Judo, General Manager, Special Duties, Channels Television.
Steve JudoSteve Judo, is the General Manager, Special Duties of ChannelsTelevision.Steve Judo holds a Bachelor of Science degree in Social Psychology (1980), and Master of Science degree in Psychology (1983) from the University of Wisconsin, U.S.A. He...
-
Biography Of Philip Uwazuoke Ofoegbu, Executive Director Finance And Administration, Nta
Philip Uwazuoke OfoegbuPhilip Uwazuoke Ofoegbu is a native of Amaigbo, Nwangele Local Government Area of Imo State. He was Born into the family of Late Mr. Thomas Ofoegbu and Lucy Ofoegbu in Enugu. He had his University Education at the Institute of...
-
Biography Of Ibrahim Lawal Damisa, Executive Director, Training And Capacity Building, Nta
Ibrahim Lawal Damisa Alhaji Ibrahim Lawal Damisa a consummate broadcast Journalist was born on the 2nd of February, 1956. He had his early education at the Kudu and Arewa Primary Schools in Kazaure as well as the l.E.A Primary School, Karkarna all...
-
Biography Of Abiola Ajimobi; Governor; Ex-senator; Oyo State Celebrity.
Abiola Adeyemi AjimobiAbiola Ajimobi, a former senator of the federal Republic of Nigeria, was born on December 16, 1949. Abiola Adeyemi Ajimobi?s earliest education was at St. Patrick?s Primary School, Abebi. After his primary education, Abiola Adeyemi...
Biography