Biography
Isaac Adewole. Biography.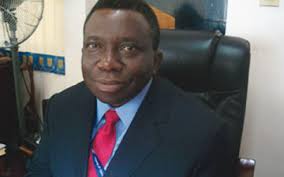 Isaac Folorunsho Adewole was Born on May 5, 1954.
Adewole had his early education at Ilesa Grammar School, where he begun in 1966 and passed out in 1972 and obtained Grade I certificate with distinction in 1970 and
the Higher School Certificate in 1972. It was in the same school that he made AAC in the three Science subjects he offered. In 1973, he entered the University of Ibadan and obtained his MB BS degree from there in 1978, winning the Glaxo

Allen-bury

prize for the best performance in Pediatrics. He then started practicing in the Department of Obstetrics and Gynecology as a Senior House Officer in 1981 and at the same time, underwent further medical training which qualified him as a Senior Registrar in the Department in 1984. Later, he traveled to London, where he studied for the Research Fellowship in the Department of Medical Oncology at Charring Cross Hospital London.
When Isaac Adewole came back from London, he became Lecturer I at the College of Medicine in the University of Ibadan in 1989. In the year 1995, he became a senior Lecturer and in 1997, he became a Professor and the Dean of the Faculty of Clinical Sciences and Dentistry between the years 2000 to 2002. In the year 2002, he became the Provost of the College of Medicine of the University of Ibadan, a position he held until the year 2006.
At different periods, Professor Adewole served in the following capacities:
Director of the Prevention of Mother to Child Transmission (PMTCT) of HIV Project at UCH;
Chairman of the PMTCT National Task Team Subcommittee on anti-
retro-viral
for the PMTCT of HIV;
Coordinator
of the Campaign Against Unwanted Pregnancy in Nigeria;
Principal Investigator for ?Operation Stop Cervical Cancer? in Nigeria;
Secretary-General of the Confederation of African Medical Associations and Societies (CAMAS) from 1997-2003.
President Elect of African Organization for Research and Training in Cancer (AORTIC);
Chairman of the sub-
Saharan
African Cervical Cancer Working Group (CCWG);
Chairman, National Task Team on prevention of Mother to Child Transmission of HIV.
Professor Adewole is also a member of several professional bodies, including:
Nigerian Medical Association;
Society of Gynaecology & Obstetrics of Nigeria;
European Research Organization on Genital Infection and Neoplasia (EUROGIN),
The International Network on Control of Gynecological Cancers.
Professor Adewole have over the year, developed lovE and interest in the following researches; evaluating novel ideas for promoting cervical cancer screening in developing countries; multi-country study on HPV in cervical cancer among African women and evaluation of the attitudes of HIV positive pregnant women to the use of contraception and couple counseling.
Being an eloquent medical professional and a prolific writer, professor Adewle delivered many guest lectures, uncountable communications at scientific conferences, abstracts, poster presentations, workshops and has written and published several articles in journals and books on gynecological oncology, abortion, HIV/AIDS and prenatal medicine.
On December 1, 2010, Profesor Isaac Folorunso Adewole became the Vice-Chancellor of the University of Ibadan.
Professor Adewole was one of the presidential nominees for ministerial appointment in the year 2015.
-
Biography Of Uchenna Joy Ikokwu
Uchenna Joy IkokwuDr. Uchenna Joy Ikokwu is an indigene of Idemili, in Anambra State, Nigeria. She is married and blessed with children. She had her Primary Education at All Saint?s Primary School, Enugu in 1966 and her Secondary School...
-
Biography Of Iya Abubakar
Iya AbubakarIya Abubakar was born December 14, 1934. He is a Nigerian politician and mathematician who was Federal Minister of Defence during the Second Republic of Nigeria, and senator for Adamawa North from May 1999 to May 2007. Iya Abubakar...
-
Biography Of Abel Guobadia
Abel Guobadia was born on June 28, 1932 in Benin City, Nigeria. Abel attended C.M.S. Primary School Benin City from the year 1939 to 1945. After his primary education, he attended Government College, Ibadan from 1946 to1951. He then got admission into...
-
Biography Of Maurice Iwu
Maurice Mmaduakolam Iwu was born on April 21, 1950. He is a native of Umuezeala, Umukabia, Ehime in Mbano Imo State of Nigeria. He is Professor of Pharmacognosy who have served as the Chairman of the Independent National Electoral Commission (INEC), appointed...
-
Biography Of Dora Akinyili, Life And Career.
Dora AkunyiliProf. Dora Nkem Akunyili (OFR) was born in Makurdi, Benue State, Nigeria on the 14th of July 1954 to Chief & Mrs Paul Young Edemobi. She was a devout Catholic and was happily married to Dr. J.C. Akunyili, a Medical Practitioner and they...
Biography