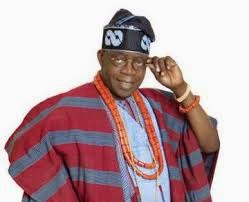 Introduction.
Bola Ahmed Tinubu
was born on March 29, 1952 in Lagos State Nigeria.
Educational Background.
Bola Tinubu had his primary education at St. John's Primary School, Aroloya, Lagos and Children's Home School in
Ibadan
before traveling to the
United States
in the year 1975, where he had his secondary education at
Richard J. Daley College
Chicago
,
Illinois
. Later he gained admission into the
Chicago State University
where he graduated in the year 1979 with a
Bachelor of Science
degree in Accounting.
Career
.
After graduation, Bola Tinubu with worked with
Arthur Andersen
,
Deloitte, Haskins, & Sells
, and
GTE Services Corporation
, both in the United States of Nigeria. In the year 1983, he returned to Nigeria, and secured a jib with
Mobil Oil
Nigeria, where he rose to the position of an executive in the company.
Political Career.
Bola Tinubu joined politics in the year 1992. Then he contested for, and won election as a senator of the Federal Republic of Nigeria, representing the Lagos West constituency. After the annulment of the June 12, 1993 election, Bola Tinubu founded
National Democratic Coalition
(NADECO) with some other Nigerians, a group that advocated for the restoration of democracy and recognition of the 12 June results. In the year 1994, Bola Tinubu went into exile and later came back in the year 1998 when Sani Abacha died.
In the year 1999, Bola Tinubu contested for the position of the governor of Lagos State and was elected in the platform of Alliance For Democracy (AD). In April 2003, after the expiration of his first term in office, he was re-elected for a second term.
Personal Life.
Bola Tinubu is married to
Oluremi Tinubu
, a Senator of central Lagos State. He is a chieftain of the Asiwaju of
Lagos
and that of the Jagaban of the Borgu Kingdom in the Northern
Niger State
of Nigeria.
.
Bola FrazerBolanle Frazer popularly known as Bola is a producer with Channels Television. She Obtained a University degree from Lagos State University Ojo where she studied Geography and Planning. She went ahead to get her masters degree in Diplomacy...
VIEW PHOTO GALLERY Alhaji Lai MohammedLai Mohammed was born in 1952 into the family of Alhaji Mohammed Adeleye. He is an indigene of Kwara State, Nigeria but based in Lagos State....
Adeola Rahman IpayeMr. Adeola Rahman Ipaye was born on June 8, 1963. He is an indigene of Lagos State. Adeola Rahman Ipaye had his University Education at the University of Lagos(UNILAG) where he graduated with a B.A. (Hons) degree in History in 1984....
Yemi OsibanjoAbout Yemi Osibanjo.Yemi Osibanjo was born in Lagos State to late Sir. Adeyemi, on March 8, 1957. Educational Background.After his secondary school, Yemi Osibanjo got admitted into University of Lagos where he studied...
Babatunde FasholaBabatunde Raji Fashola was born on June 28, 1963 in Lagos. He attended Sunny Field Primary School, Adelabu Surulere, Lagos, where he obtained his First School Leaving Certificate. After his primary school, Babatunde Raji Fashola...