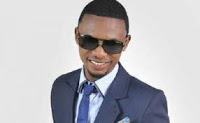 I Go Dye
Francis Agoda, popularly known as I Go Dye, was born on April 4, 1979. He is a Popular Nigerian Comedian, and an indigene of Abraka, in Ethiope East Local Government Area of Delta State, Nigeria. He is married and blessed with a son.
He had his Primary Education at Ighogbadu Primary School, then proceeded for his secondary education at the College of Commerce in Warri, Delta State, where he became the zonal project manager of Junior Engineering Technical Society (JET Club). At an early age, he invented a flying helicopter, a hover craft ship, a radio transmitter and a battery table fan, which earned him a scholarship to study structural engineering at a university in New York. However, he declined the offer.
I Go Dye started out at a time when comedy in Nigeria wasn't looked at much and wasn't seen as a means to achieving livelihood--comedians in general were earning relatively low income. However, he continued to pursue his passion, until he was invited to join the Press Literary Art Drama Debating Society (PLADDS). He soon became PLADD's Programme Director. His membership to the organization helped him to further hone his skill in comedy.
According to the comedian, his parents did not believe one could make a living out of comedy. He has this to say ?The truth is that every parent would want to give a son or daughter all the support they need in life. But when we started comedy some 20 years ago, it was not a lucrative business ?They just believed that ?oh our son is just having fun.? They wanted the best for me and wanted me to be an engineer because I was the first one to build a helicopter in Delta State. I was also the first to build a hover craft. I also constructed a radio transmitter. My superiors were so impressed at Urhobo College I was given a scholarship to study Structural Engineering,?
I go dye revealed in an interview with Vanguard in 2014 that as a child, his dream had been to be an engineer. However, comedy came to him by accident after he won a scholarship to study Structural Engineering and was interviewed on Delta State TV in the early 1990s. His life took a dramatic turn. He has this to say ?My life changed forever when I was interviewed on Delta State TV on my inventions. They asked me a couple of questions and I proudly started talking. Before I knew it everybody was laughing including those interviewing me. Each time I tried to demonstrate the creativity that resulted in the innovations, people just couldn?t stop laughing and the lady who was presenting the show said to me, ?young man, drop this thing. You have a great future as a comedian.?
He added ?That?s how I was introduced to Tunde Omonode and before I knew it I was on Delta TV doing the DTV Talk Show alongside my friend, I Go Save. I was so surprised because I never really knew I was funny; the impact we had was so great! The love was overwhelming and I was like wow!
?I always started my comedy those days with my short comings in life but that one?s another story for another day,? he says waving his hands emphatically, ?I tried to tell my fans that no matter where they?re coming from, they?ll succeed as long as they stay focused.?
He began his career in comedy in 1991 at the age of 13 in Delta State Television, DTV Top Show with veteran broadcaster Tunde Omonode. He also became co-host presenter of a programme called Mock News every Saturday, together with his friend Otaghware Otas Onodjayeke, fondly called i go save. Later, I Go Dye got a contract to perform in the first comedy club in Nigeria, the Prest Motel in Benin City, Edo State, where he was paid one thousand Naira per show.
He gained popularity on media stations and on one occasion when he went to perform at the Univeristy of Benin(UNIBEN), he met Baba Kome who shared the idea of performing in Night of A Thousand Laughs. He auditioned for Night of Thousand Laughs, and was rejected four times by the organizers of the event. Opa Williams (organizer of Night of a Thousand Laughs) took I Go Dye to the Pre-Reel Award to watch his performances when Azuh Arinze of National Encomium Magazine gave him an opportunity to perform at the Pre-Reel award, where he overwhelmed the audience. After this, Opa Williams signed a contract with him to perform in the forthcoming Night of a Thousand Laughs 2000. Consequently, he was also made to perform at the REEL AWARD and the AMEN Award of 2000. Opa Williams also presented a special award to him as the most outstanding comedian that was featured in the show.
His introduction into the Night Of a Thousand Laughs and his performances earned him a place in the comedy industry of Nigeria as his first national break could be traced back to the year 2000. He has become a sought-after comedian by events promoters in Nigeria and Europe.
I go dye says that things have been looking up since his eventful emergence into the very competitive industry that has seen many come and go over the past ten or more years, though the challenges involved are highly enormous and one has to come up with new materials and wit to keep one relevant over time?.
His first European tour was in 2005 with Ehizoya Golden Entertainment, which took him across nine countries and 18 cities in Europe. He was also invited by NIEDO France to perform during the UNESCO Cultural Week.
I Go Dye has been featured in MTV Africa Music Awards and also in opening and closing shows of the world's notable musicians including Akon, 50Cents, Rick Ross and others.
He has won several awards including the Creative Award in Africa (CAN), African Best Comedian, TV People Golden Award (New York), Best Creative Comedian In Africa, the NIDOE-SPAIN Award for his contribution to the upliftment of Nigerian cultural and artistical values, the Nigeria Best Comedian Award (NEA AWARD), National Comedy Award (NCA), Best Comedian In Nigeria, Best Niger-Delta Comedian, and many more.
I go dye h
as been honoured by the United Nations as one of its Ambassadors. The successful comedian is now the international body?s Millennium Development Goals (MDGs) Ambassador. I Go Dye is now among other UN MDGs Ambassadors around the world working to realise the objectives of the United Nations.
The honour is in recognition of the impact I Go Dye has on society through comedy. He was given the mandate to continue to facilitate the realization of the United Nations MDGs.
I Go Dye, Daily Independent gathered, is involved in philanthropic and humanitarian projects. He is also an advocate of non-violence approach to issues among youths in Africa, inspiring them to seek good leadership and eradication of poverty.
In an interview with daily independent, I Go Dye had this to say, ?I feel honoured by this, but it will be more gratifying to me, when I will see our leaders create more opportunities for the youths and making effort to gainfully employ them. As at today, millions of Africans are suffering and faced with uncertainty. The future seems vague and there is no hope in sight.
?Until this personal desire for a better Africa is achieved, my heart knows no profound happiness because someone is still sleeping without a meal.?
He added, ?But this recognition shows that my work is not in vain. I thank God for giving me this talent that is inspiring others and also to my fans all over the world, who have been supporting me with their prayers and love. Without you, all these achievements won?t have been possible. May God bless you all.?
The honour came with a customised vehicle number plate: MDG AMB 7K, an
international identification card and an honorary plaque.
His story is one of grass to grace. From humble beginnings in Warri, the comedian, I Go Dye has risen to be one of Nigeria?s most prominent comedians. In fact, everything about him is comic.
I Go Dye has come a long way; from Lagos to Abuja, from Nigeria to the UK and the US including most European capitals, the UN Peace Ambassador has plied his trade winning fans across the globe and thrilling audiences.
In a career that spans 20 years, the rib cracker has done it all and seen it all. He however has this advice for youngsters who want to walk in his footsteps?
?The advice is that they should believe in themselves and know that truly, no one can believe in you more than you believe in yourself. Even if the world tells you that you cannot do it, tell the world that you can. There?re people who are writers, there?re those who are singers and those who are dancers so you have to believe you can do it.
?They should not think of being Tuface or I Go dye. Rather, they should be thinking of being what God has chosen for them and fulfilling their purposes in this world; they should carve an identity for themselves.
?Wole Soyinka is celebrated worldwide today because he writes. Michael Jackson is respected worldwide today because he could sing and dance. Hussein Bolt is a celebrity today because he runs very fast. Eddie Murphy is a super star today because he acts very well and so too is Genevieve Nnaji. All these people have achieved the best in what they know how to do best so now they can rule the world just like Obama.?
Basket Mouth Real Name Bright Okpocha popularly known as BasketMouth was born in Uzor Street in Ajegunle Lagos, but he is a Native of Abia State. he was born in September 14th, 1978 and is currently married to Elsie Uzoma with kids he has a...
ElenuAkinlami Babatunde Julius popularly known as Elenu is an upcoming Nigerian Comedian. He has always had the dream of becoming a Medical Doctor, but along the line, he fell in love with Computers and hence went ahead to obtain an Ordinary National...
Godwin Komone popularly known as Gordons is a Nigerian Comedian and Musical Artist. He is an indigene of Delta State and an Urhobo by tribe. Gordons attended Ighogbadu Primary School,Delta State and then proceeded to Nana College, Delta State for...
BoviAbovi Ugboma popularly known as Bovi was born on September 25, 1979. He is a Nigerian comedian, director, producer, actor, and a writer.Even though he was born in Benin City, He is an indigene of Delta State, Nigeria. He had his early education...
AYAyo Richard Makun also known as A.Y is a Nigerian Comedian, Actor, Professional Master of Ceremonies, live show host and writer. AY is the eldest son from a family of seven. He is from Ifon in Ondo State, but was however born and bred...