Biography
Biography of Jonathan David Jang; Politician; Ex-Governor; Plateau State Celebrity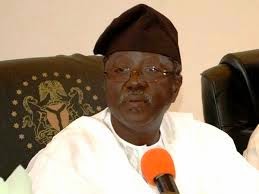 Jonathan David Jang
Jonathan David Jang was born on March 13, 1944 in Du Local Government of Plateau State. He had his primary education at Junior Primary School, Du and Senior Primary School, Riyom between the
years 1953 and 1956. He had his secondary education at Plateau Provincial Secondary School Kuru.
After his secondary education in 1964, Jonathan David Jang joined the Nigeria Air Force (NAF) in 1965, and was trained on how to fly air plane in Germany. Later he was admitted into the Nigerian Defense Academy (NDA) Kaduna. By the year 1979, Jonathan David Jang had completed his Command courses in both Ternhill, United Kingdom and Kaduna respectively. Between the years 1981 and 1985, he served at the NAF Headquarters. Jonathan David Jang eventually became the Commanding Officer, Equipment Supply Wing and Commander, Equipment Supply Depot, Ikeja, Lagos.
During the Military regime of General Ibrahim Babangida, Jonathan David Jang was appointed the Military Administrator (Governor) of Benue State in 1985. Later he was posted to Gongola State as governor during the same period. After his service as military administrator, he was promoted to the rank of Air Commodore.
When Jonathan David Jang retired from service, he became an entrepreneur, during which he founded and managed different companies to success.
Jonathan David Jang later ventured into politics. He was one of the founding fathers of the People?s Democratic Party, and a member of the Party?s Board of Trustees.
In April 2007, Jonathan David Jang, having successfully contested election, was sworn-in as the Governor of Plateau State.
-
Biography Of Augustine Akobundu
Augustine Akobundu Col. Augustine Akobundu was born on the 10th of March. He is an indigene of Oloko in Ikwuano Local Government Area of Abia State. He had his early education in Enugu and Umuahia. He thereafter attended the Nigerian Defence...
-
Biography Of Abdullahi Adamu, Ex-governor, Senator
Abdullahi AdamuAbdullahi Adamu, former Governor and senator of the Federal Republic of Nigeria was born at Keffi, Nasarawa State, on July 23, 1946. He is an indigene of Nasarawa State. He attended Senior Primary Shool Keffi, then proceeded to Government...
-
Biography Of Tam David West
Tam David WestProf. Tam David West is a former minister of petroleum and energy under General Muhammadu Buhari military government between 1984?1985, and minister of mines, power, and steel under the regime of General Ibrahim Babangida (1986)....
-
Biography Of Patience Jonathan, Firstlady, Politician, Rivers State Celebrity
Dame Patience JonathanDame Patience Jonathan is the wife of Goodluck Jonathan, the president of the Federal Republic of Nigeria. She was born in the year 1957 to Chief Lazarus Iwari-Oba in Port-Harcourt, Rivers State Nigeria. Dame Patience Jonathan concluded...
-
Biography Of Seriake Dickson; Lawyer; Policeman; Governor; Bayelsa State Celebrity
Seriake DicksonSeriake Dickson is a native of Toru- Orua Town of Sagbama Local Government Area of Bayelsa State, born on January 28, 1966. Seriake Dickson?s earliest school was at Kolobiriowei Primary School, Toru-Orua from 1972 to 1978. After...
Biography