Biography
Biography of Wole Soyinka; Author; Ogun State Celebrity.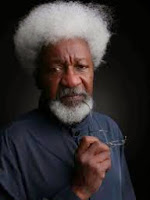 Wole Soyinka
About Wole Soyinka
Backgrond
Akinwande Oluwole Soyinka popularly known as and called Wole Soyinka was born on July 13, 1934, into the Remo family of Isara-Remo of Abeokuta, Ogun State of Nigeria, in Yoruba Land.
Soyinka?s father, Samuel Ayodele Soyinka was a recognized member of the Anglican Church and the headmaster of St. Peters School, Abeokuta. His mother, Grace Eniola Soyinka was a trader and a member of the Ramsome-Kuti family.
Education
Soyinka attended St. Peters Primary School, Abeokuta and afterwards, proceeded to Abeokuta Grammar School where he was notable for excellence in literary composition, for which he also won several awards. In 1946, he gained admission into Government College Ibadan where he completed his secondary education in 1952. In the same year, he gained admission into the University College, Ibadan, an affiliate of University of London, where he studied English Literature, Greek, and Western History. While still studying in the University Wole Soyinka, in conjunction with some other friends of his, founded the Pyrates Confraternity, to fight corruption and enthrone justice in the university.
Between the years 1954 and 1957, Wole Soyinka moved to the Leeds University where he continued his studies in English literature.
Career and Activism
Wole Soyinka worked at the Royal Court Theatre in London. He wrote a lot of plays that were produced in both Nigeria and United Kingdom, in theaters and on radio. Soyinka participated actively in the politics that shaped the Nigeria's history and the struggle for independence. During the Civil War, he was arrested by the federal government of General Yakubu Gowon and put in solitary confinement for two years, just for standing strongly against the injustice of those days.
Soyinka also stood strongly against the tyranny of the military administrations in Nigeria especially that of late General Sani Abacha.
Awards of Excellence
Wole Soyinka was made a professor first at Cornell University and then at Emory University in Atlanta. In 1996 he was appointed Robert W. Woodruff Professor. He is also a lecturer in universities of Oxford, Harvard and Yale. Soyinka was a professor of Comparative Literature at the Obafemi Awolowo University, between the years 1975 and 1999, a Professor of Creative Writing at the University of Nevada, Las Vegas, Professor at Loyola Marymount University in Los Angeles, California, US.
In the year 1986, Soyinka was awarded the Nobel Prize for Literature. This made him the first African Nobel laureate.
-
Biography Of Peter Odetoyinbo (bishop)
Peter Kayode Odetoyinbo was born on Janury 28, 1964 at Ibadan, Ondo State of Nigeria. Peter was ordained a priest of the Catholic Church on October 7, 1989. He was later ordained a Catholic Bishop on June 25, 2014 at St. Bernedette Nursery and Primary...
-
Funmilayo Ransome-kuti. Biography And Activism.
Funmilayo Ransome-Kuti, also known as Francis Abigail Olufunmilayo Thomas was born on October 25, 1900, in Abeokuta, Ogun State of Nigeria. Her father was a son of a Nigerian slave who returned from Sierra Leone, and traced his ancestral history back...
-
Fela. Biography And Life.
Fela was born as Olufela Olusegun Oludotun Ransome-Kuti, also known as Fela Anikulapo Kuti, on October 15, 1938 in Abeokuta, Ogun State, Nigeria in a family of upper middle class. His mother, Funmilayo Ransome-Kuti was a feminist and a strong activist...
-
Biography Of Eugenia Abu, Executive Director Programmes, Nta.
Eugenia AbuEugenia Abu is the Executive Director Programmes of the Nigerian Television Authority, NTA. She had her University Education at Ahmadu Bello University Zaria, where shebagged a degree in English in 1981. She proceeded further to obtain...
-
Biography Of Omole Olusola Adesina, Director General Nta.
Omole Olusola AdesinaOmole, Olusola Adesina is a distinguished communication and public relations expert whose experience and training span not only the fields of media and communication, but also management activities. He was appointed the Director General...
Biography